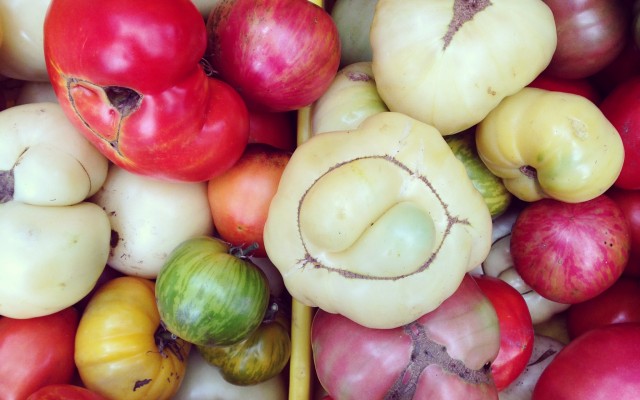 It's always a miracle when I have time to make food for myself this time of year. I've been working 15 hour days, 7 days a week this season. It's been hard, but I've started to adjust to the craziness of the schedule enough to where I have time to post this recipe!
If you follow me on Instagram, you're probably accustomed to more updates from the farm. Instagram is fast and easy so I've been relying on it almost exclusively for my social media fix. This week, I made a roasted salsa with some of the White Tomesol heirloom tomatoes that had been growing in abundance in our field. I documented it via IG and a few people asked for the recipe.
Most salsa blancas are cream or dairy based, so I was hesitant to name this salsa as such. But, I couldn't for the life of me think of a better name! So, salsa blanca it is! It's easy and delicious and here's how you make it.
Farmer Meg's 'Salsa Blanca'
(makes one quart)
You'll need:
3-4 lbs of White Tomesol or other white heirloom tomato (though you can obviously substitute with any good quality tomato), rinsed and quartered
2-3 jalapeños, with stems removed
1 medium-sized head of garlic, separated and peeled.
the juice of one lime
sea salt and pepper to taste
a glug of olive oil
cilantro to garnish
You'll also need:
One well-seasoned, deep cast iron skillet
a blender or food processor
Preheat your oven to 375 degrees.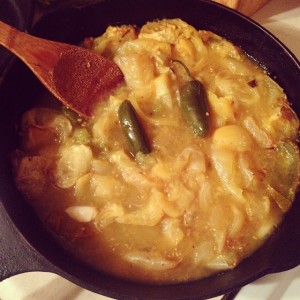 In your cast iron skillet, add one glug of olive oil to coat the bottom. Place your quartered Tomesols , jalapeños and garlic in the skillet and sprinkle lightly with sea salt. Place in the oven for one hour or until everything is well roasted down and the liquid is somewhat reduced.
Remove from oven and pour contents of the skillet into a heatsafe bowl to cool.
Once cool, add the tomato mixture and lime juice to your food processor or blender and pulse until uniform and smooth. Add salt and pepper to taste. Garnish with minced cilantro.
Serve immediately with tortilla chips or chill for up to two weeks in the fridge for later use!