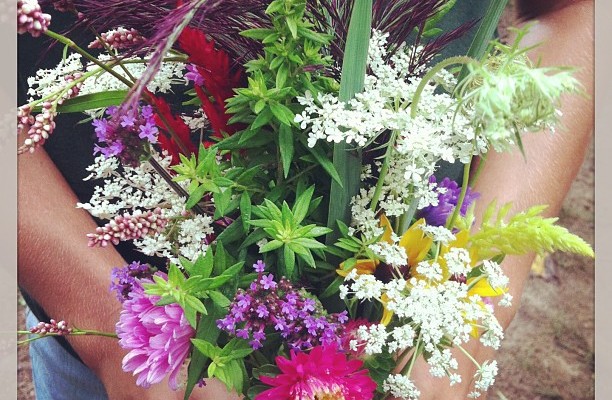 Late summer on the farm is perfect.
You get a little bit of everything good this time of year. Mornings chores are spent in heavy boots and sweaters with hot coffee and by lunch it's warm enough to hit the local beaches for a swim. We are harvesting an abundance of sun-loving tomatoes and peppers and eggplants from the field but now the nights are cool enough for radishes, arugula and lettuces to get some respite from the warm days. We've got our wool blanket out now so we can sleep with the windows open, the salty breeze rustling through our windows comforting us to sleep. There are no extremes this time of year, but there is plenty and there are satisfying sensations that change throughout the day in such a way that it keeps you present. It is effortless and it is good. I love that.
We're eating some of our best meals right now from the farm. Shirred duck eggs, crispy bacon fat potatoes, spinach cake, tomatoes on toasted bread with bright yellow grass-fed butter, gazpacho, tomato conserve, tomato chutney…everything tomato-y. Soon enough we'll begin ripping up the plants, plucking all of the hard, green fruits for pickling and roasting and we'll begin daydreaming of the warm sun-ripened fruits. That's the life cycle of a tomato plant, and I suspect that is why we love them so.
I'll be sad when all of the colors of the season start to fade, but for now I'm happy to just take it in and appreciate how wonderful it all feels.